Our Staff Love Animals!
Teresa Campbell - Owner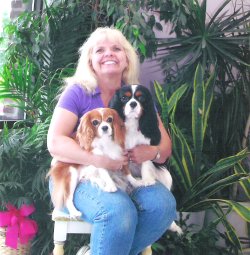 I was born and raised on a farm in West Virginia, and I have always surrounded myself with animals. Over the years, we rescued several orphaned or abandoned animals including: chipmunks, rabbits, and squirrels.

My most memorable summer was when I was fifteen. I had hand-raised an abandoned colt. I would start the day at 5:30 AM to prepare the colt's bottles for the day, and I would end the day around midnight after he fell asleep with his head in my lap.

In the late 70's, I was hired by a local breeding kennel. I cared for around thirty Great Danes and Dobermans. Hand raising a litter of Dane puppies that had been abandoned by their mother was truly a great experience. After moving to the Virginia Beach area, I was hired by Ja-Pens Pet Center in 1986 as a kennel attendant. I learned to groom and became manager of the shop in just a few years. In February, 2010, Ja-Pens Pet Center closed and I opened Ja-Pens Grooming Salon. Grooming is an adventure every day. It is always exciting. Every animal poses a different challenge, and those challenges change with each appointment. Being an artistic person, I want each animal I work on to reflect how much I love what I do.
---
Selected Animal News Articles: Updated Daily